Icarus is an upcoming multiplayer cooperative survival game slated for the PC platform. The game is being developed and will be published by RocketWerkz, the studio owned by Dean Hall, the man behind the popular DayZ video game.
The game was first announced and revealed during the PC Gaming Show 2020 and you can watch its teaser video above.
Icarus is set to be a game where players try to survive the harsh hostile alien world. Players will be entering hostile planets from their space stations to gather resources, build tools, and structures. Along with it, players will have to fight wildlife and achieve their goals to make it back to their space station alive.
Icarus Release Date
Icarus is scheduled to be released sometime in 2021. The studio behind the game has not provided any details yet for its release date. According to the studio, the game is already at the stage of being playtested.
Is Icarus Free to Play?
RocketWerkz confirmed that the game, Icarus, will be a free-to-play game. The game is already listed on Steam as a free-to-play game however, the information posted for the game is limited. At this point, we are not yet certain if the game will have some form of a season pass, DLC, or microtransactions. One thing we do know, however, is that the game will have some sort of paid content to support its maintenance and to monetize the game.
Icarus Gameplay
The game revolves around players descending from their space stations to enter an alien planet. The players' goal is to complete missions, gather resources, survive, and return alive. It is a co-op survival game that provides a set of missions on the planet's surface that may take from 20 minutes up to a staggering 48 hours mission time. The time specified in this game follows a real-time clock.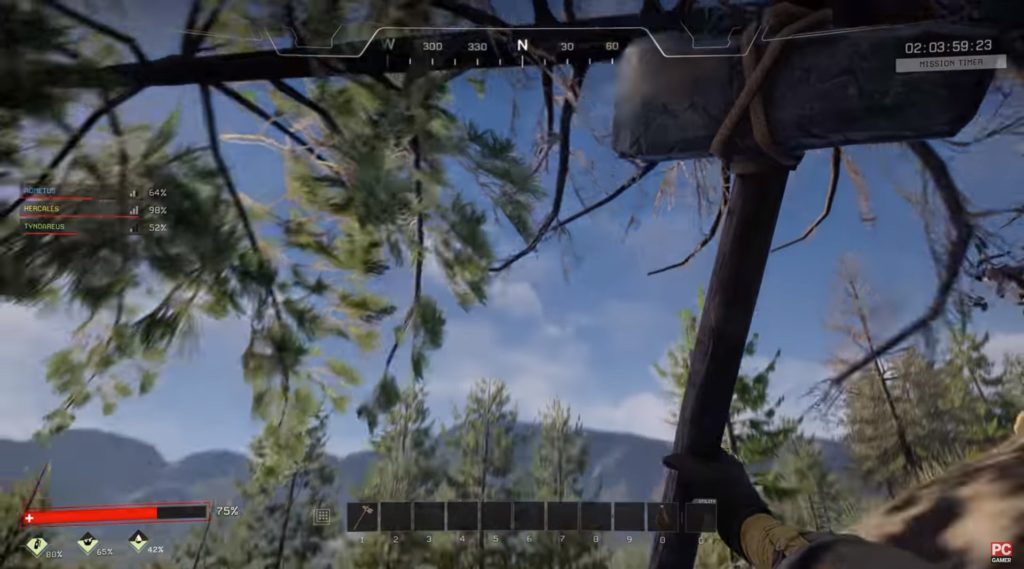 Every completed mission provides each player the opportunity to upgrade their space station as well as craft tools, structures, and more. However, the game comes with a dropship system that limits the things you can carry down to the planet with you.
Icarus is expected to have maximum players of 4. However, there has not been any confirmation about the maximum players that can play together from the studio.
The game shows a similar gameplay with most survival games such as DayZ, Ark: Survival Evolved, and more. It is yet uncertain if the game will introduce PvP aspects, we do, however, know that the game will solely focuse on PvE aspects with a timer set per mission to depict the difficulty and challenge level of the game.
System Requirements
Icarus is developed using the Unreal Engine and the terrains, surfaces, and decors of the planet are hand-crafted. Meaning, the game is designed to be self-sufficient and will not rely on the procedural generation of in-game assets.
Because of this, the game requires a Windows 7 or later on 64-bit, 8 GB of RAM, either an Intel i5 2400 or AMD FX-8320, and a GTX 670 2GB VRAM or an HD 7870 2GB VRAM as a minimum PC specification to play this game.
About The Game
An alien world for the taking. Explore, survive and make your fortune. Or die trying.
A resource-rich frontier world has opened up for human exploration and exploitation, where hopefuls claim prospects for a limited time to mine for exotic resources.
Icarus is a free-to-play, multiplayer co-operative survival game. While navigating each prospect's unique challenges, players must collect meta-resources to permanently progress, create advanced technologies and take on longer missions.
Harsh environments demand an envirosuit, regular oxygen, food and water, shelter and constant attention. The wildlife is easily provoked, and your plans may need to change on the fly. Take the resources you find back up to orbit to craft advanced technology for your drop, either with a crew or solo.
Use your time wisely or be left empty-handed or even left behind. Calculate the risks, stretch your endurance and resources. How far are you willing to go?
Dean Hall, creator of landmark survival game DayZ, invites you to the future of survival gaming.